Our Grassroots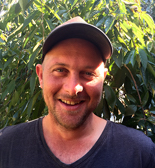 Hedge and Stone is a unique team of landscapers and horticulturalists with extensive experience designing and installing beautiful gardens and outdoor spaces throughout the suburbs of Melbourne.
A qualified horticulturalist with a life long passion for plants and garden design, company director Simon Tallack founded Hedge & Stone in 2005. Since then, Simon has built a team of landscapers with a skill set that allows him to offer clients a bespoke yet comprehensive in-house garden design and landscaping service with workmanship that he can guarantee.
Simon is always approachable, enthusiastic and ready to work with you to develop the perfect outside space to suit your lifestyle. He maintains a lead role across all projects to ensure that you have a familiar face and consistent communication, including constant progress updates and plenty of opportunity to discuss any additional ideas or concerns you may have.
Keeping up to date with all the latest products, techniques and sustainable practices is a priority for Hedge and Stone; close relationships with some of Melbourne's premium suppliers to the landscape industry, means that Hedge and Stone always have the inside story. Simon is available for consultancies if you need a little inspiration…or a lot!
Don't hesitate to contact us at 0418 563 938 if you have any enquiries related to landscaping.